Or Why I Love Adventurous Couples
Minto initially contacted me a month before coming to Oahu for vacation with his girlfriend, Elda. He told me he wanted to surprise her with a marriage wedding proposal somewhere with an epic view. The two of them loved hiking, he said, so I suggested the Makapu'u Lighthouse Trail in east Oahu. When I sent him photos from another couples surprise engagement proposal photography session I had done at the top of the Makapu'u ridge, he was sold.
Three days before our scheduled shoot, however, the weather was extremely stormy and raining. The forecast looked gloomy for the entire next week: overcast with a high chance of rain. It didn't look good at all. When I texted Minto the night before our session, he was bummed but still willing to go for it. The next day, however, I woke to sunshine! It was a beautiful morning, with a patchy blue sky overhead as I made the early morning drive to the location. I only hoped it would hold through their engagement proposal.
The Makapu'u Lighthouse Trails is a fairly easy 1.25 mile hike on a paved path to the Lighthouse overlook. But that's not really the top of the ridge - that's still another couple hundred feet up via normal dirt hiking trails. We were scheduled to meet near the old World War II pill box bunker at the top of the ridge at 8:30am. Shrugging on my camera backpack, I left the parking lot at 7:30am and hiked/scrambled up the more direct but rugged back way to the top.
The secret plan was for me to pretend to be a hiker/tourist taking landscape photos. Minto and Elda would hike up to the pill box where Minto would then break out his drone and put it on auto-track to get some "great photos of them at the top" as he would tell Elda. Then he would turn to her and take her hands. That would be my signal he was about to propose marriage to her.
With half an hour or so to kill before they arrived (and not even knowing for sure what they looked like beyond the description of the shirts they were wearing that Minto had texted me that morning), I had to look like the landscape photographer/tourist I was pretending to be so Elda wouldn't suspect anything. Thus I got to entertain myself trying to take photos of tiny little flowers on a mountain ridge top in very gusty winds. I literally ended up taking nearly two hundred photos before they even arrived. I got so involved at some points, I started to worry I might actually miss them or the start of Minto's surprise proposal! It's just that, once I started looking, I was astonished at how many different kinds of tiny flowers and plants there were everywhere! It never ceases to amaze me how easy it is to miss all the beauty around us until we are actively looking for it. Then you suddenly wonder how you never saw it before. Of course, with the gusting winds and tiny flowers, very view of the images turned out well.
Finally, Minto and Elda hiked up and stepped up onto the pill box. But almost immediately, eight other hikers appeared and climbed up next to them. I literally groaned aloud. Seriously?As I kept a side-eye on Minto & Elda, I wondered how Minto would handle it. Would he wait patiently or would he finally decide they weren't going to leave and just propose anyway? I stealthily snapped a couple of photos when I could, still wandering around pretending to take pictures of flowers. Then finally the moment came when the hikers left and Minto & Elda were alone. It was nearly time for some stealthy wedding proposal photos!
Apparently Elda never read Ms Emma's Proposal Primer on handling surprise marriage proposals, because instead of standing there and pretending to consider her options or looking delighted and happy with tears in her eyes, she immediately drops to her knees with Minto and embraces him in a hug so tight I start to worry he may not be able to breathe. I literally have nothing to photograph for five minutes except for a hugging couple that can't be pried apart. Below is a short video snippet from Minto's drone...
Just when I'm about to step up and say, "Um, hey guys?" Elda breaks apart to let Minto catch his breath and turns and spots me. Her mile-wide megawatt smile indicates the probability that her answer being a yes is somewhere in the 99.999999999 percentile.
Now that I've been discovered and no longer need to lurk in the bushes, I let Elda know Minto has arranged a wonderful surprise for her of a mountain top photo session, and that night, a sunset engagement session. "But first," I told her, "I want a proper surprise marriage proposal photo." So we quickly reenact it so I could be in a better position to get the stunning Hawaii coastline in the background.
After another 15 minutes or so of getting a variety of fun shots from the top of the old bunker, I suggested we head down to the nearest beach to get some shots there as well. Elda loved that idea and wasn't fazed at all when I suggested taking the backside trail down the mountain, even when I warned that it was overgrown and steep. As it turned out they both handled the trail easily and even enjoyed it. I tried to get as many fun action shots as I could while still hiking myself. :-)
In the photos above you can just see Makapu'u Beach, that little cove tucked in at the base of the mountain ridge on the left. That's where we went for beach photos. Minto and Elda took the opportunity to change clothes and then we went out and got wet! It wasn't hard - the recent storms had left us with rough & wild surf and lots of salt spray wafting over us.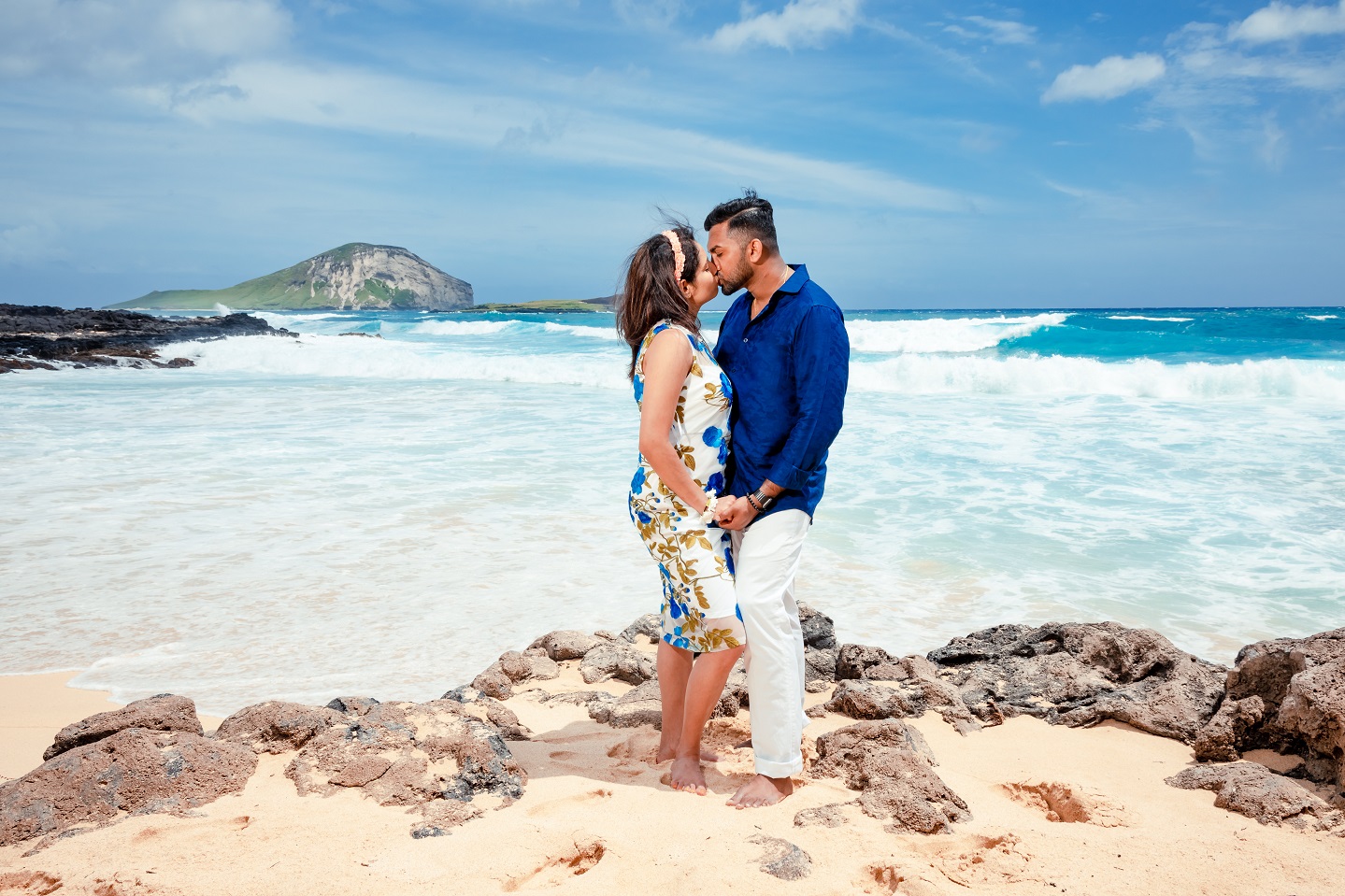 We got incredibly lucky that morning, with no rain and mostly sunny skies. Even better, it turns out our luck held that evening as well. Despite the clouds and rain that moved in as the day progressed, our sunset session on the other end of the island at Ko Olina turned out better than expected as well. All the way around it was a wonderful day for a beautiful couple. I'm so glad I got to be apart of their Oahu adventure and romance. Minto & Elda's surprise engagement and marriage proposal photography session went off almost perfectly to plan.
Stayed tuned for Part Two - Minto and Elda's Sunset Engagement Session!